The top five books associated with nearly all leaders are as follows:
The magic of thinking big
How to have confidence & power in dealing with people
How I raised myself from failure to success in selling
Personality plus
How to win friends and influence people
If you read these books and apply them to your lives it will change your life!
Books:

A provocative business parable for our troubled times, LeaderShift is a book for executives, business owners, leaders, and citizens who are concerned about America's decline and are committed to preserving freedom and ensuring prosperity for future generations.
See why
readers are calling
LeaderShift
a "brilliant wake-up call," "one of the most important and powerful books written for our times," and an "instant classic."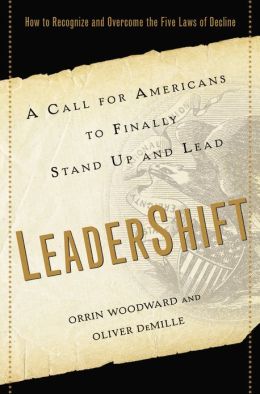 The book tells the story of David Mersher, the successful CEO of IndyTech. David sets out to discover why the United States is losing its leadership edge and what he can do to turn things around and make America truly great again.
In the process, Mersher and his team learn how the Five Laws of Decline are eroding the nation's economy — quietly ruining businesses and big institutions. They also create a formula for American leaders and citizens to reverse this crippling decline.
Above all, Mersher and his colleagues discover something few people have yet to realize: Our world today is on the verge of a momentous LeaderShift, one which will transcend partisan politics and significantly alter the way we govern, lead, and do business.
When Mersher and his team get help from a surprising source, the result is stunning and unexpected — and it's one that concerned Americans will certainly reflect upon and debate for decades to come.
Read LeaderShift to learn:
How America is suffering from the Five Laws of Decline, and what youcan do to reverse them.

How America is following the same path that led to the downfall of ancient Rome.

Why American needs three specific types of leaders, and how you can become one of them.

Why entrepreneurs and business leaders must lead the charge to preserve, protect, and promote freedom.

How the battle for freedom is between Creators and Builders versus Credentialists and Bureaucrats, and how to get in the right camp.

Why every business leader needs a broad and deep liberal arts education.
Furthermore, you'll learn a comprehensive plan with 28 specific, non-partisan constitutional and policy proposals designed to:
Reign in the federal government, and give more responsibility and power to state and local governments.

Keep taxes low while keeping the government strong and healthy enough to perform its vital functions.

Eliminate the party system and replace it with a more effective leadership system.

Prevent entrenched elites from controlling our money and national interests.

Restrict monopolies caused by government intervention and favors.

Ensure a free enterprise system where everyone is treated equally before the law, and in which everyone has equal opportunity to prosper.
LeaderShift by Orrin Woodward and Oliver DeMille - ORDER HERE
RESOLVED by Orrin Woodward - ORDER HERE
Developing the Leader Within You by John C. Maxwell
And just in case you were worried that you'd missed out on the leadership gene, there's no need to worry – according to John Maxwell: "the traits that are the raw material of leadership can be acquired." All you need to bring them to the forefront is desire and enthusiasm. After that, you can become quite a force to be reckoned with!
To Maxwell, leadership isn't just about getting things done, "the growth and development of people is the highest calling of leadership." This isn't just about building profits or a winning team, it's a spiritual service!
Inside, you'll find what separates "Leader Managers" from "Run of the Mill Managers". You'll be given the tools you need to develop the:
...you'll need to join the ranks of the most successful, life-changing leaders alive today.
Relying on real-life anecdotes, short paragraphs, charts, and numerous lists to help make his wisdom applicable in your own life as a leader, you'll find
Developing the Leader Within You
a priceless addition to your self-improvement library.
Developing the Leader Within You - ORDER HERE